Biomass Pellet Mill SPM520
Application Scope of Materials:
Biomass pellet mill can pelletize a variety of forest and agricultural waste or residues.
Agro waste: EFB, rice husks, corn cobs, peanut shells, sunflower seed shells, coconut shuck, coffee grounds, straw stalks;
Wood waste: many spices of trees, lumber, timber, shrubs, sawdust, saw shavings, twigs and branches.

Application of the Pellet Fuel: featuring highly efficient fuel value and convenient storage, pellets can be used for civil life and in households; it is also an ideal fuel for biomass industrial boiler replacing coal burning for a better environment; also for thermal power generation.

Features:
Biomass pellet mill is characterized by independent drive on all parts from feeding, mixing to pelleting and lubricating as well as unique ring die assembling and disassembling. The feeder adopts AC magneto in stepless speed regulating. Technically, the feed intake volume can be adjusted in view of the working load. The whole set remarkably possesses elegant structure design, advanced technology, high productivity, lower power consumption and easy operation.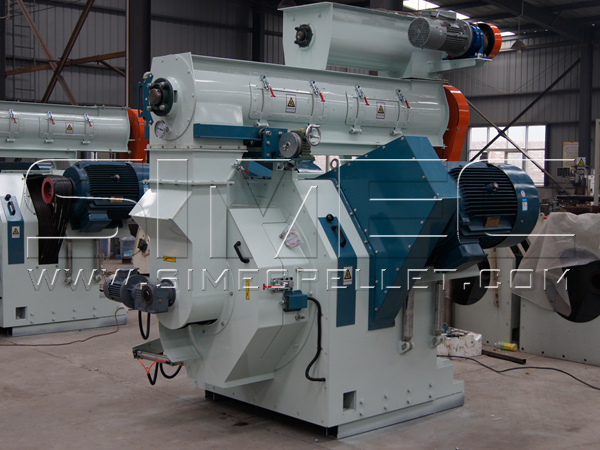 SPM520 wood pellet mill made in 2014
Double motor belt driving system;
Inside ring die diameter: 520 mm;
Roller diameter: 238 mm;
Power: 75 KW *2 sets +2.2 KW (Screw feeder) + 5.5 KW (conditioner) + 1.1 KW(force feeder);
Frequency control timing feeder, operation security system;
Automatic roller bearing temperature detecting and protection system;
High quality stainless steel ring die;
Automatic lubrication system;
Moisture adding device if the material is too dry;
Optional pelletizing chamber air cooling system;
Main shaft and hollow shaft made of high quality forging part, CNC high precision machining, SKF bearings;
Automatic Anti-overload Protection system and automatic pneumatic emergent discharge can protect the operator safety and pellet mill.
Innovation of SPM520 Wood Pellet Mill:
Please check the advantages of our innovation on our website as follow:
http://www.simecpellet.com/blog/wood-pellet-mill-innovation.html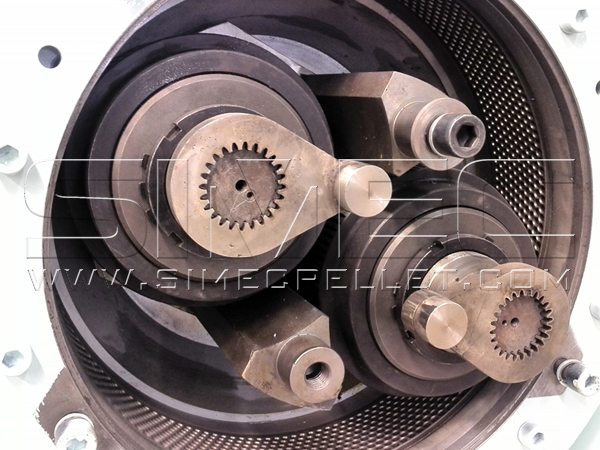 Other Detail Features of SPM Wood Pellet Mill:
http://www.simecpellet.com/product/biomass_pellet_equipment/Pellet_Mill.html