Hammer Mill Upgrades Pellet Quality in Costa Rica
Costa Rica is located in Central America, known for its abundant flora and fauna resources, the national forest coverage rate reaches up to 52%. The rich forestry resources gave birth to the related industries. About 14% of the forest is designed for productive purposes, more than half of which is for woody fuel cutting. And wood pellet production is an industry emerges as the times require.

SIMEC client owns a wood pellet plant founded in 2010 nearby San Jose. Due to the prosperous demands of wood pellet fuel at local, the plant keeps full capacity production since its inception. In the past, two sets of crushers supplied from Europe are equipped in the plant, but the capacity can not pace on with the increasing production requirement. In order to meet with the demand for expansion, a new set of hammer mill is needed. Satisfied with high quality mill and fineness output, the client purchased SIMEC hammer milling machine after carefully comparison and inspection.


Map of Costa Rica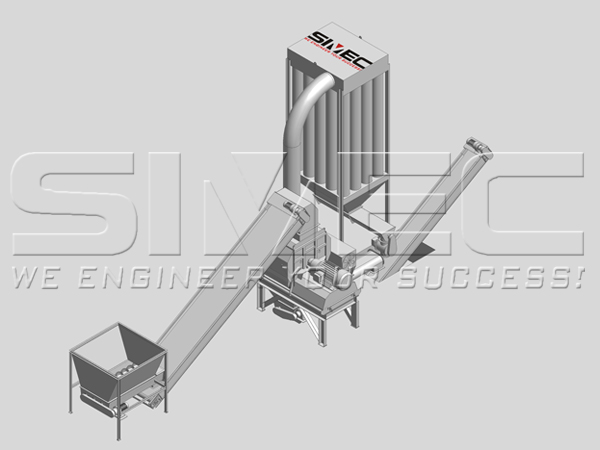 SIMEC Hammer Mill MFSP140/120


In fact, according to the communication at the very beginning, the client reported that there was frequent current fluctuation on his European pellet mills and accompanying with slight shaking on the main body during pelletizing. Furthermore, bulk density of wood pellets was under 625 kg/m3, while the pellets produced by SIMEC pellet mill is over 700 kg/m3. This confuse puzzled the customer for years. He sought for our help, hoping to find the reason and solve the dilemma. Through sufficient information sharing and discussions, SIMEC engineering team draw a conclusion that the root cause was on his existing European crusher.

Size reduction is an important pretreatment before pelletization. Hammer mill is designed to reduce the feedstock size into proper range. Normally, the size of grinded material should be smaller than the diameter of wood pellets. However, this client produces 8mm diameter pellet but most of the wood fiber produced by his existing crusher is larger than 10mm.

Oversized wood fiber will cause increase of resistance force when passing through the ring die holes during compression process. The concrete manifestations are working current increase and pellet mill vibration during production. Overcoming the increased resistance force causes pelletizing pressure deficit. All of these lead to low bulk density of wood pellets.

Advanced hammer milling technology from SIMEC is selected to improve the situation. SIMEC MFSP series hammer mill is designed to achieve fine milling performance and high capacity. The unique design of multi-point milling system and material discharging mechanism ensures performance and capacity. Entire milling process is clean without any dust release.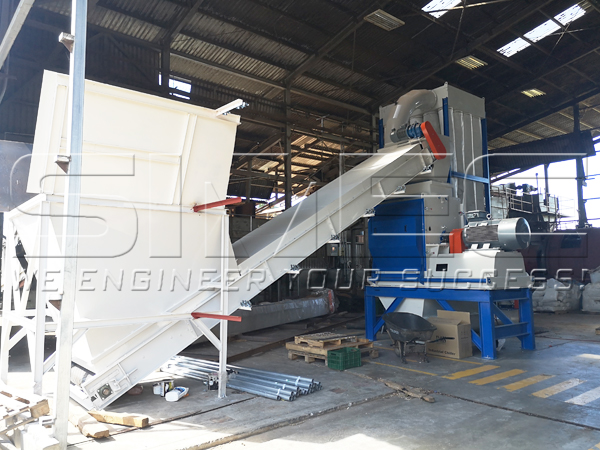 SIMEC Hammer Mill in Costa Rica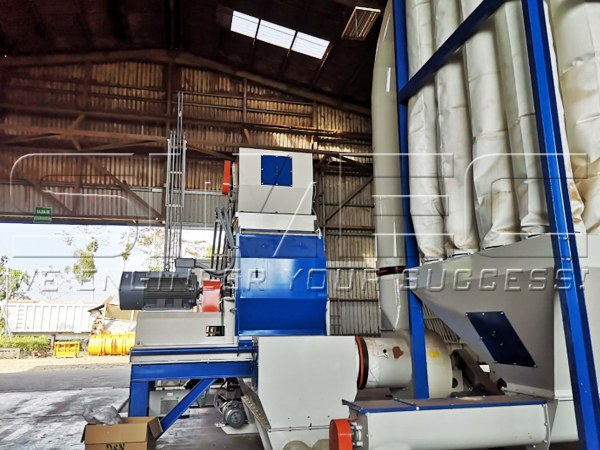 SIMEC Hammer Mill MFSP140/120 for Costa Rica


SIMEC Hammer Mill
Type: MFSP140/120
Power: 200 kW
Capacity: 6~8 Tons/Hour
Features:

Multi-point shearing comminution. SAW-HEAD or KNIFE hammers 8mm thickness, made of high strength alloy steel.
Crushing rotor adopts SKF BEARINGS, features AUTOMATIC BEARING COOLING SYSTEM that reduces maintain consumption but increase service life. The system adopts circulating coolant.
200KW SIEMENS standard motor. Multiple crushing chamber design. DIAMETER 1400MM crushing rotor. WIDTH 1200MM crushing chamber.
Specially designed fast open slide gates to change screen and to inspect inside status; 6 pieces of screens equipped.
Crushing rotor lifting device to benefit maintenance & service.
Induced draft fan with smaller power is adaptable due to professionally designed material discharging mechanism.
The complete milling system is customized to conform power standard in Costa Rica and field conditions. High quality components such as motor and bearings are equipped to ensure stable and efficient operation. Milling rotor features with automatic bearing cooling system.


Automatic Bearing Cooling System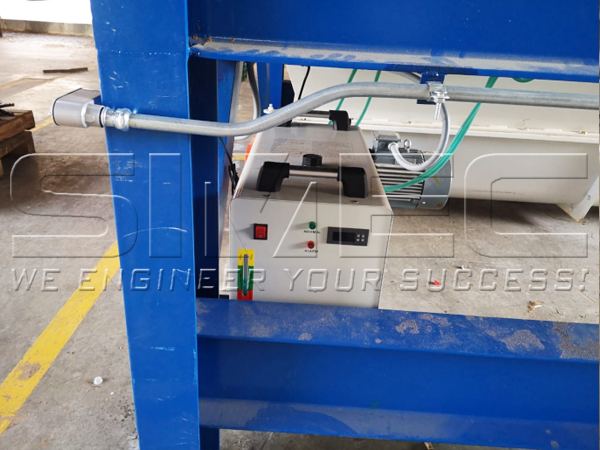 Cooling System of Automatic Bearing



SIMEC also supplied electric control system individually tailored to the client's requirements.
Being the 'brain' of the facility, control system plays an important role in operation. To fulfill the request of accuracy and duarability, a full set of robust electrical elements is adopted.
The feeding device of hammer mill is backed by a quantity adjustment function, that is able to keep the main motor stay within a proper range of current. Matching with thermal protection, safety of main motor is guaranteed completely.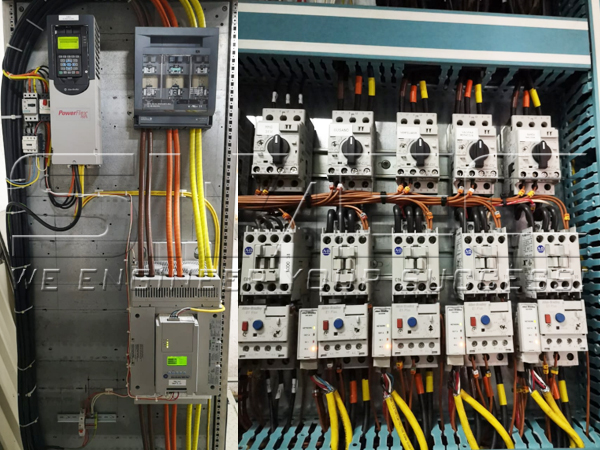 Configuration of Control Cabinet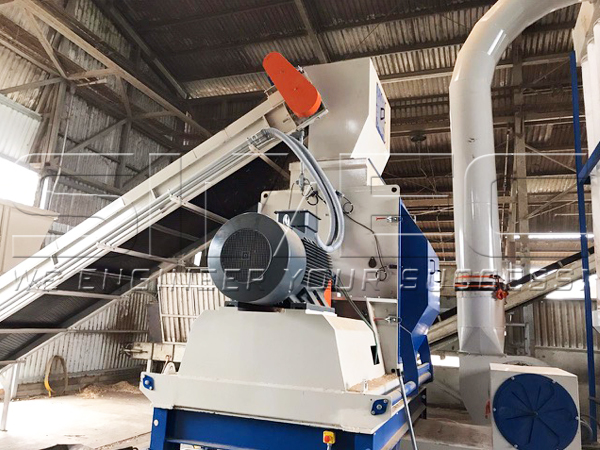 Hammer Mill Feeding Device


The operation data of the entire system can be monitored by PLC in real time, the production status will be adjusted automatically according to the settings.

Since SIMEC hammer mill was put into use in this factory, it reaches design capacity, grinded wood fiber becomes fine and isogranular. Thereby the bulk density, hardness and durability of wood pellet have been upgraded to ENPlus A1 standard.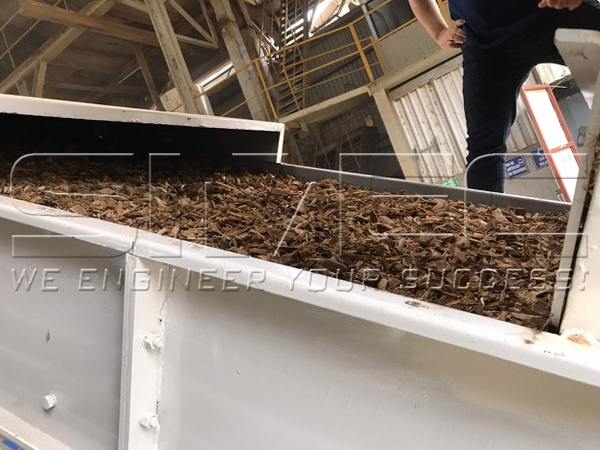 Wood Chips with over 30% Moisture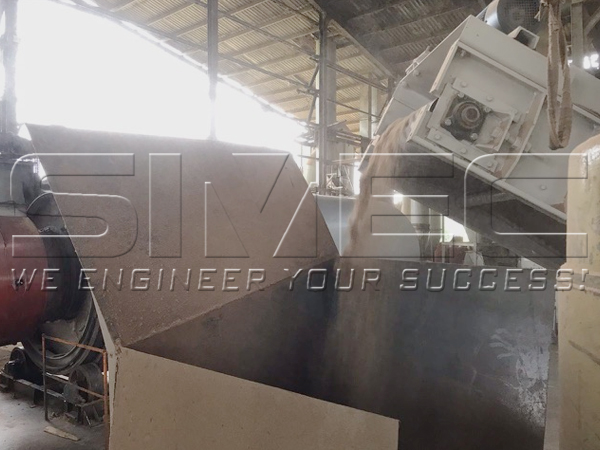 Wood Fiber Produced by SIMEC Hammer Mill


Please contact us if you need state of the art hammer milling technology.
We are willing to supply you with robust equipment and reliable services.


---
© Copyright of articles and pictures on this site belongs to SIMEC. Any company, media, website or individual are not allowed to reprint, reproduce, repost, modify or use in other ways without permission. Otherwise SIMEC will have the right to pursue legal responsibilities.