Innovation of SPM520 Wood Pellet Mill
In biomass pellet industry,there are various kinds of pellet mills being sold by different suppliers.Some pellet mills can make pellets but with very low output and very short life span of spare parts. For example,the bearings of rollers. In some other suppliers' pellet projects,the life span of bearings is just 1~2 weeks.Then the bearings will be broken and have to be replaced by a new one. This is a big cost for customers.When we check the pellet mills from some other suppliers,we find that the inside surface of ring die is not worn uniformly.Some surface is worn more heavy.It seems that when the rollers press on ring die inside surface,the friction force is different.
However,how does it happen?
According to SIMEC's research,many producers' pellet mill adopt screw to fix roller support on the main shaft. The forces between ring die and rollers are huge during wood pelletizing process.After a few days running,the screw may loose,so the roller supports may vibrate while they are rotating.Then problems happens... Any vibration is harmful with rotating parts,such as rollers and ring dies. The bearings inside rollers will be damaged very soon and it may cause the cracking of ring dies,as well.
How to solve this problem and improve the structure of pellet mill?
After long term R&D and tests,SIMEC's engineers have innovated Integrated Main Shaft.The roller support rods are forged together with main shaft. So it avoids any vibration fundamentally.The material has also been improved to be 40CrMn.Both of the performance and life span is guaranteed.
This design has been applied on some of SIMEC's wood pellet mills.Because the fabrication cost of integrated main shaft is a bit high,it will be used only when necessary and when working condition of pellet mill is too hard. Please see some sample pictures of SIMEC's main shaft and pellet mills.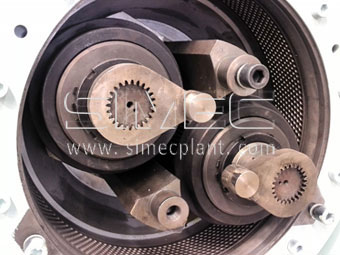 Pellet Mill Rollers And Support Rods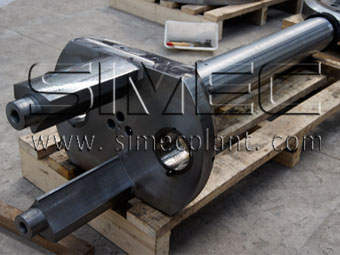 Pellet Mill Main Shaft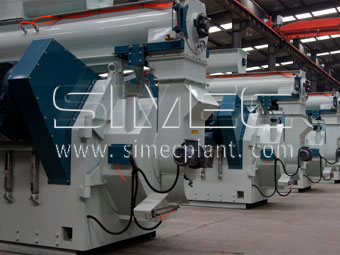 Wood Pellet Mill SPM520