4-5 TPH Bana Grass Pellet Plant in the Philippines
Bana grass is a plant with a growth habit similar to sugar cane, reaching a height of 3m or above. In August 2018, SIMEC has installed a 4-5 TPH complete bana grass pellet plant in Zamboanga, the Philippines. The project will make diameter 8mm bana grass pellets to be sold as fuel to biomass power plant, and also make diameter 4mm bana grass pellets to be sold as stock food.
The local variety Bana grass hybrid was originally imported from Australia. Its parents are Pennisetum purpureum - Elephant Grass and Pennisetum americanum - Pearl Millet.
To guarantee sustainable raw material supply for pellet factory, the factory owner has invested 700 acres of bana grass plantations. The grass takes 6 months to grow up. So the plantations can be harvested twice a year.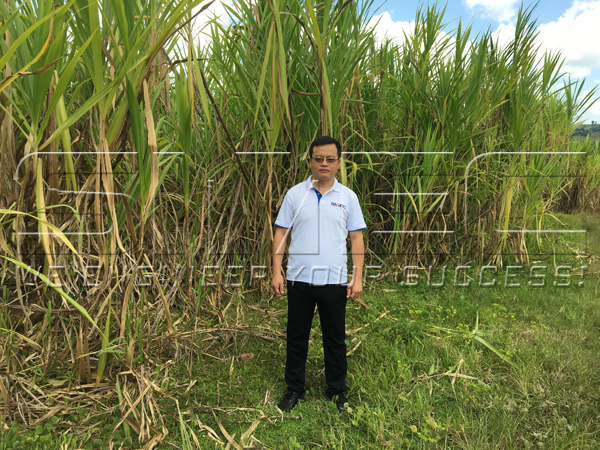 Bana Grass Plantation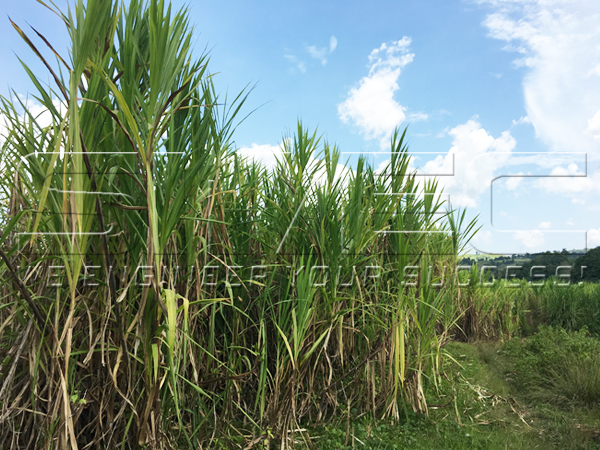 Bana Grass Hybrid
This pellet production line is only the first phase project. The line includes grass cutting system, drying system, hammer milling system, pelletizing system, pellet cooling/ sieving/ bagging system, electric control system, etc. The production line is designed to be automated to guarantee the uniform quality of pellets. The line includes three sets of SPM520 biomass pellet mills. Production capacity of each machine is 1.5-2 Tons/Hour.
The drying system adopts HZG2.9x11 triple pass drum dryer and automated chain grate hot air stove. Net weight of the drum itself is 29 metric tons, while net weight of hot air stove itself is 15 metric tons.
There're fuel hopper for hot air stove and wet material hopper for drum dryer. Workers just need to fill the two hoppers by forklift, then the drying system will run automatically to produce qualified dry material. So workers can turn to do other work until the hopper is empty. Of course there'll be empty alarm to remind the workers to come to fill the hoppers again.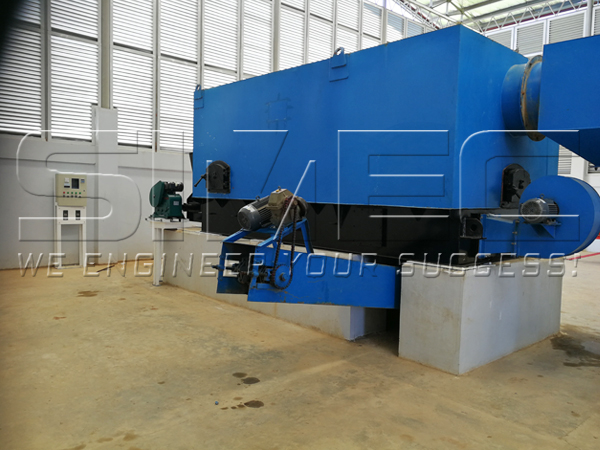 Hot Air Stove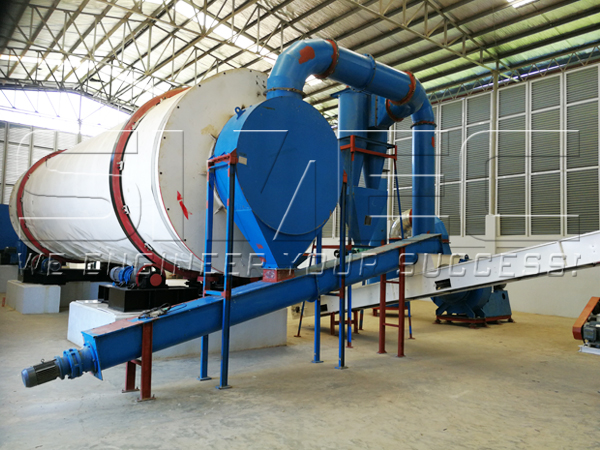 Bana Grass Rotary Dryer
The drying system is designed to dry fresh green bana grass chops directly. It's an important facility to guarantee continuous pellet production in raining season.
Before the arrival of SIMEC technicians, all of the civil works and foundations have been completed according to design drawings.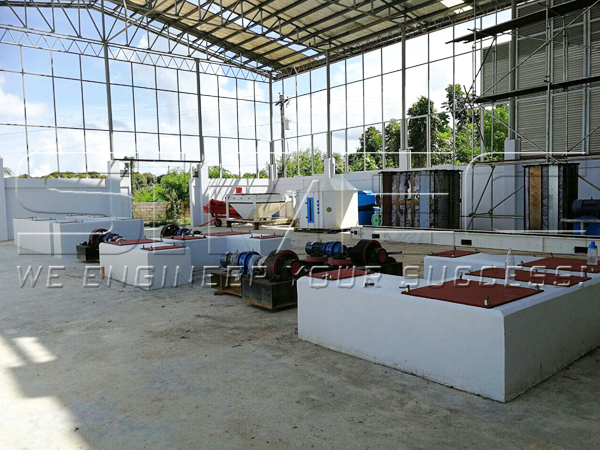 Pellet Plant Foundation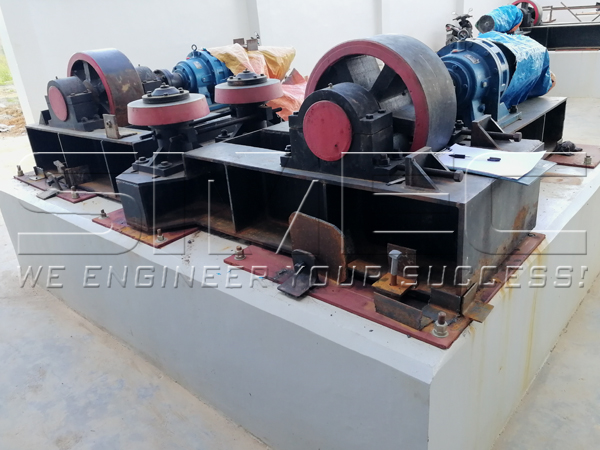 Bana Grass Pellet Plant Base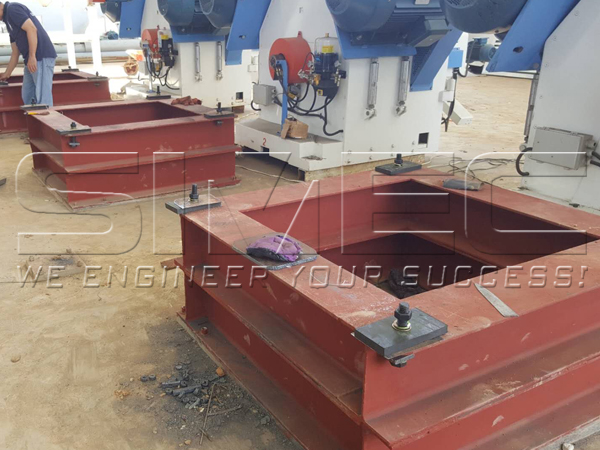 Grass Pellet Plant Foundation
During SIMEC technicians' onsite service period, the local team has completed the installation work of hammer milling system, pelletizing system, pellet cooling/sieving/ bagging system. The local technicians have been trained how to operate & maintain pellet line by SIMEC.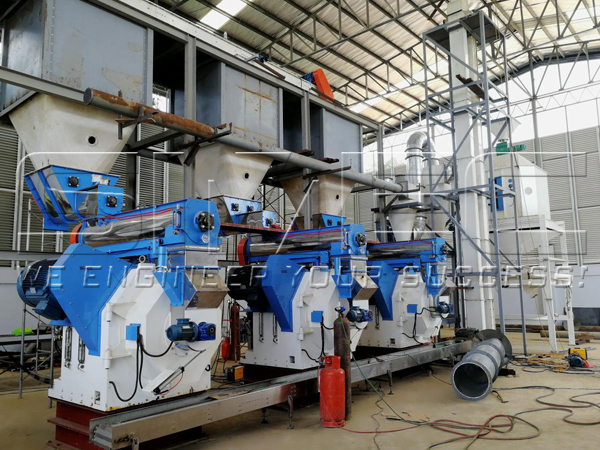 Installed Bana Grass Pellet Machines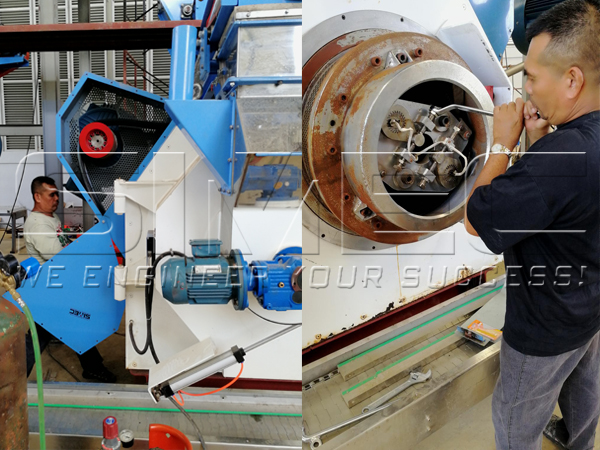 Commissioning the Installed Machines
Pellet factory's operation technicians will accumulate rich work experience that will benefit future capacity expansion. Later the owner will install 6 sets of complete pellet lines to produce more bana grass pellets for the market. SIMEC has been appointed to be exclusive supplier of pelletizing technology and machinery. We'll help client to develop continuously.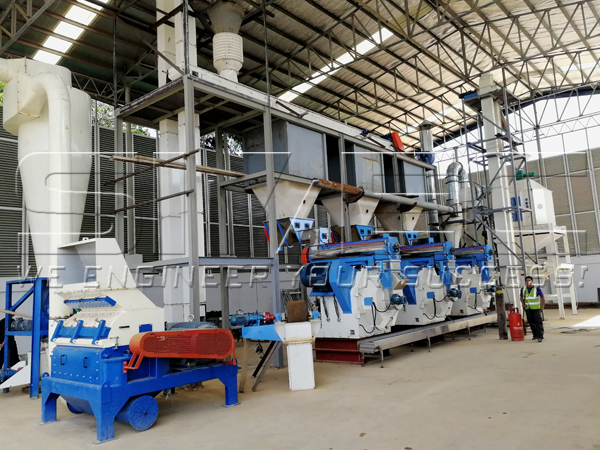 Bana Grass Pellet Plant Overlook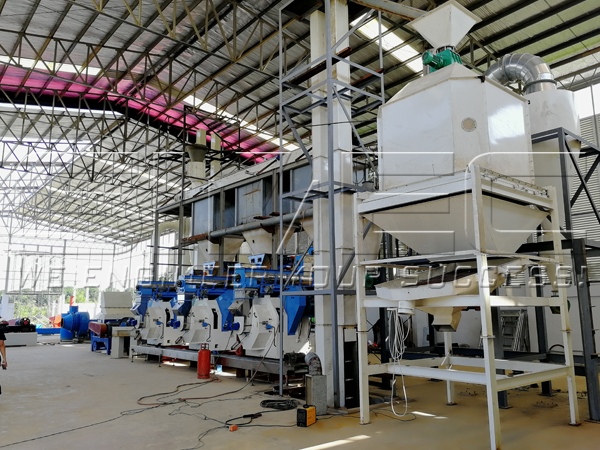 Overview of the Pellet Project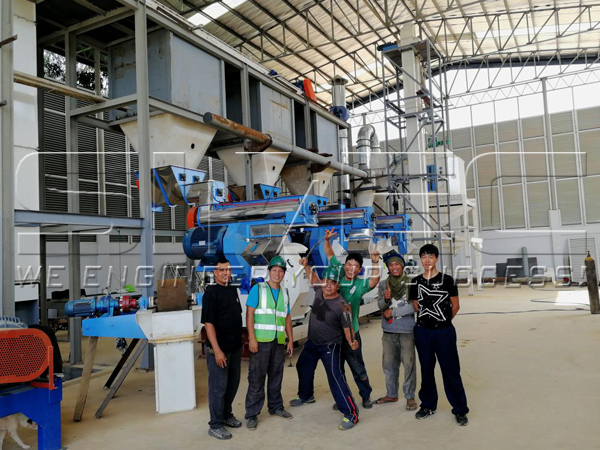 SIMEC Technican with Local Staffs
Heating value of Bana grass pellets is 4,500 Kcal/Kg dry basis. Ash content is about 3%. Biomass power plants from South Korea have made combustion test and confirmed to place long term fuel orders in big quantity. Bana grass pellet has been approved to be a great substitute for wood pellets.
Below is report of analysis for bana grass pellet sample. Tested by the Industrial Technology Development Institute in the Philippines.
Republic of the Philippines Department of Science and Technology
INDUSTRIAL TECHNOLOGY DEVELOPMENT INSTITUTE
(Formerly National Institute of Science and Technology)
STANDARDS AND TESTING DIVISION
Sample
Bana Grass Pellets
Description and Identification
About 700 gram, brown, molded materials, about 0.8cm in diameter of varying length in plastic bag
Tests
Results
Test Methods
Proximate Analysis
ASTM D 1762
Moisture, %w/w
6.16
(Modifield)
Volatile Combustible Matter, %w/w
77.4
Ash, %w/w
3.87
Fixed Carbon, %w/w
18.7
Heating Value, as received, BTU/lb
(kcal/kg)
7,500
(4,200)
ASTM D 3286
Heating Value, dry basis, BTU/lb
(kcal/kg)
8,000
(4,500)
Carbon, %w/w
43.4
Combustion
Hydrogen, %w/w
5.87
Method
Nitrogen, %w/w
0.686
LECO Organic
Sulfur, %w/w
None
Application Note