Biomass Wood Pellet Mill SPM520S
Position:
Project Sales Director
Sep 10, 2018
SPM520S Pellet Mill is SIMEC Group innovatively developed biomass pellet mill. The pellet mill is technically optimized for applying to biofuel industry by adopting single motor two-stage reduction driving system, which ensures side adjustable linear speed as well as more stable and reliable operation. The pelleting chamber door, feeder and conditioner (optional) are made of stainless steel. Interlocked roller adjusting system provides fast and reliable adjustment of clearance between rollers and die. Pneumatic quick-dump bypass, overload protection shear pin, die and rollers hoist strongly furnish the users' safe operation. It can process any kind of wood sawdust and biomass raw material, such as palm EFB, sugar cane bagasse, rice husk, corn cob, peanut shell, and other crop stalks with suitable moisture content and particle size.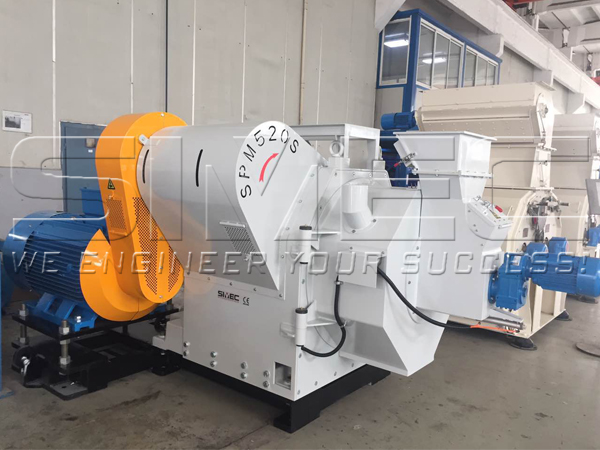 SPM520S Pellet Mill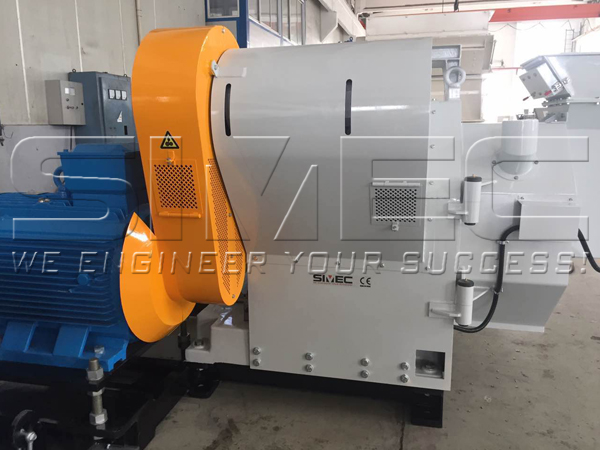 SPM520S Biomass Pellet Mill
Main Data:
| | |
| --- | --- |
| Model | SPM520S |
| Screw Feeder | 2.2 Kw |
| Main Motor | 132 Kw |
| Capacity | 1.5-2 t/hr |
| Ring Die Inner Diameter | Φ520 mm |
| Roller Diameter | 238 mm |
| Dimension | 3076x1640x1624 mm |
| Weight | 4438 kg |

Configuration:
Single motor synchronized tooth belt driving system;
Power: 132KW +2.2 KW (screw feeder) + 5.5 KW (conditioner) + 1.1 KW(force feeder);
Frequency control timing feeder, operation security system;
High quality alloy stainless steel ring die;
Automatic lubrication system;
Moisture adding device for the material that is too dry;
Optional pelletizing chamber air cooling system;
Main shaft and hollow shaft are made of high quality forging part, CNC high precision machining, SKF bearings;
Automatic Anti-overload Protection system and automatic pneumatic emergent discharger can protect the operator's safety and the pellet mill.
Characters and Advantages:
1. Larger Torque, High Efficient Power Transmission
Design of the transition shaft reduces the shaft rpm, which improves the output torque;
The rpm can be adjusted by adjusting the transition shaft belt pulley size, meanwhile the transmission efficiency would not be lost.
The rpm can be changed either working under 50Hz power network or 60Hz power network, meanwhile the transmission efficiency would not be lost.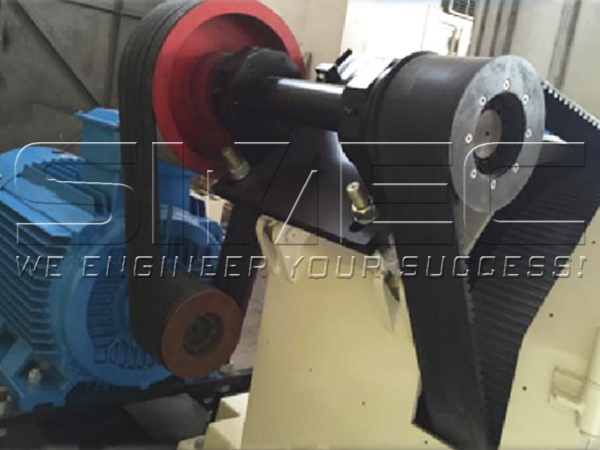 SPM520S Pellet Mill Motor and Belt
SPM520S Pellet Machine Body Shell
2. Lower Power Consumption:
| | | | | |
| --- | --- | --- | --- | --- |
| Model | Main Motor Power (kw) | Power Consumption (kw/h) | Daily Consumption (10 hours) | Yearly Consumption (300 days) |
| SPM520 (Double Motor) | 150 | 113 | 1130 kw/h | 339000 kw/h |
| SPM520S | 132 | 99 | 990 kw/h | 297000 kw/h |
3. Easy to Get Better Shaped Pellets
Under the correct moisture content, the longer the raw material stays inside the holes of ring die, the longer and better shape of pellets are squeezed out.
As for SPM520S pellet mill, better shaped pellets can be produced by adjusting the pellet mill rotary speed instead of changing a ring die.
4. Top Quality Ring Die
Ring dies of SIMEC SPM series biomass pellet mill are made of 4Cr13 alloy steel. The steel blanks are processed by roll forging technology.
The entire ring die undergoes vacuum carburizing heat treatment;
SPM520S pellet mill ring die inner diameter is 520mm.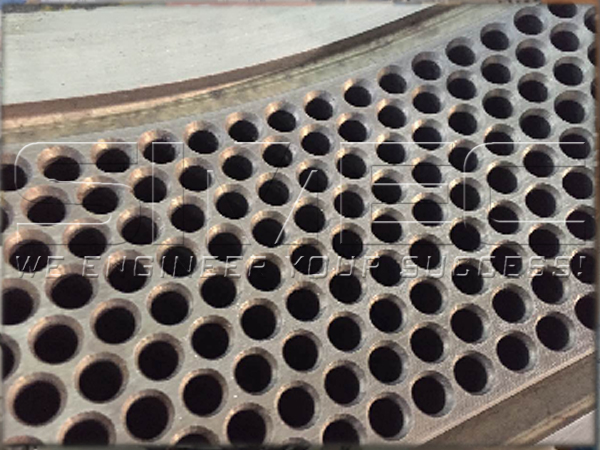 SPM520S Pellet Mill Ring Die Holes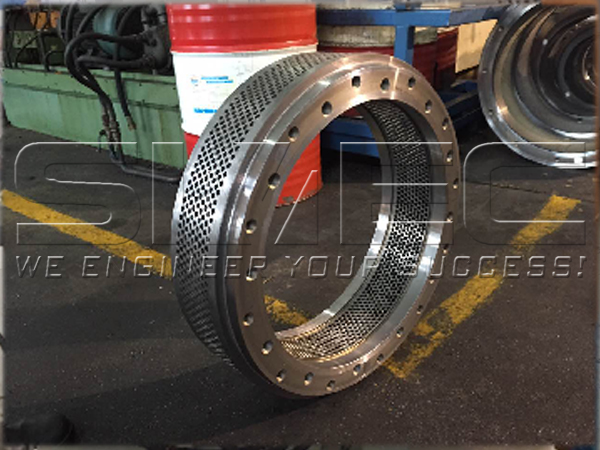 SPM520S Pellet Mill Ring Die
5. Roller Bearing Temperature Monitoring System
The temperature of the two roller bearings can be displayed on the control cabinet panel. Operator can control the bearing temperature in a reasonable range, which extends the service life of the bearings.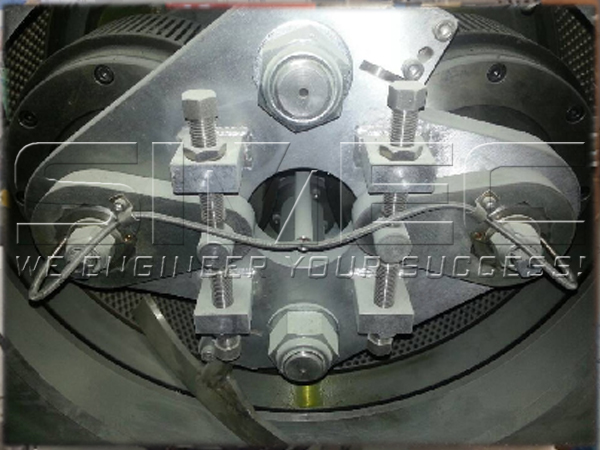 Roller Bearing
Temperature Monitoring System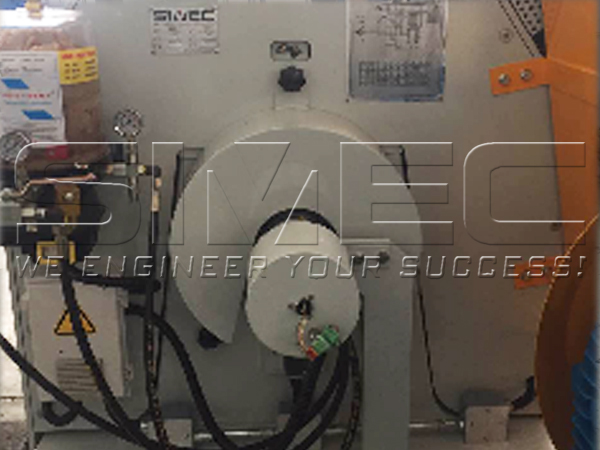 SPM520S Pellet Mill Automatic Lubrication System
6. Double Sealed TRB Structure
Larger touch surface of bearing roller enlarges the radial tolerance.
Working temperature is 20-30 ℃ lower than the cylindrical roller bearing.
The front and back bearing caps are interlocked, which ensures the perfect sealing of the bearing chamber.
If it is used to make pine wood pellet and apple tree wood pellet, the bearing life span can reach to 400 hours.
7. Strict Manufacturing and Assembly Process
With more than 20 years of experiences and our unique operational process, we take care of the torque of every bolt, the flatness, smooth finish and intensity of different components during the manufacturing and assembly. We make sure the product quality consistency.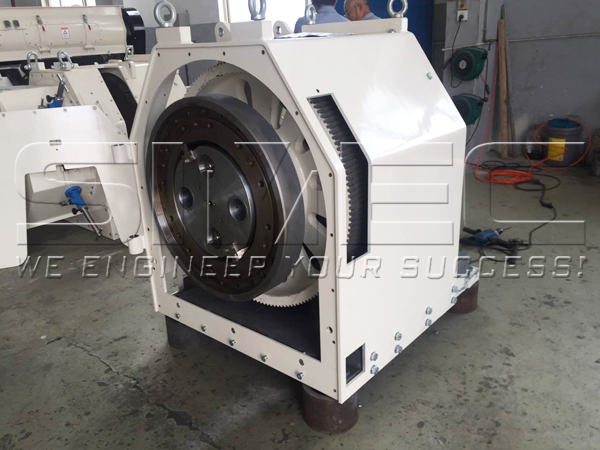 SPM520S Pellet Mill Inside View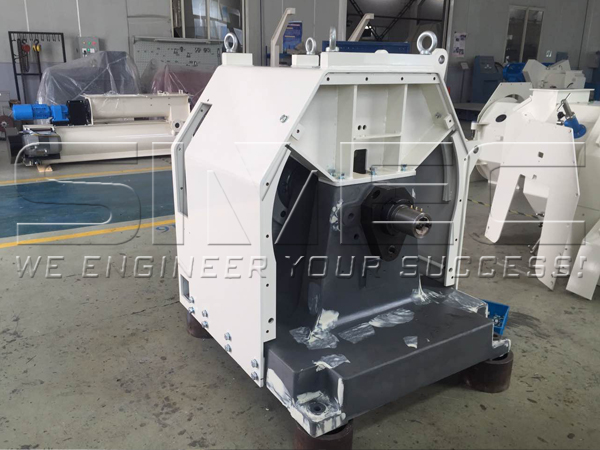 Inside View of SPM520S Pellet Mill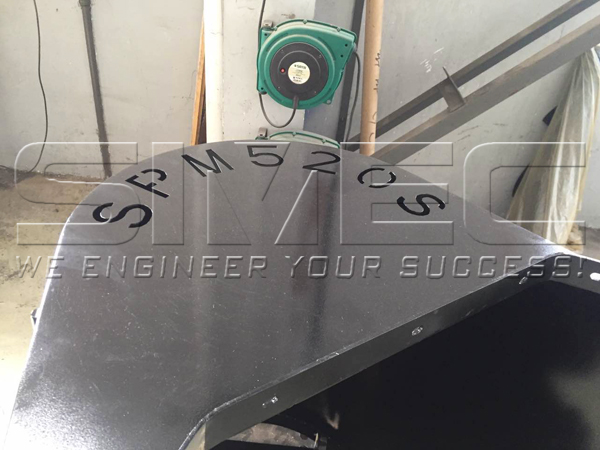 SPM520S Pellet Machine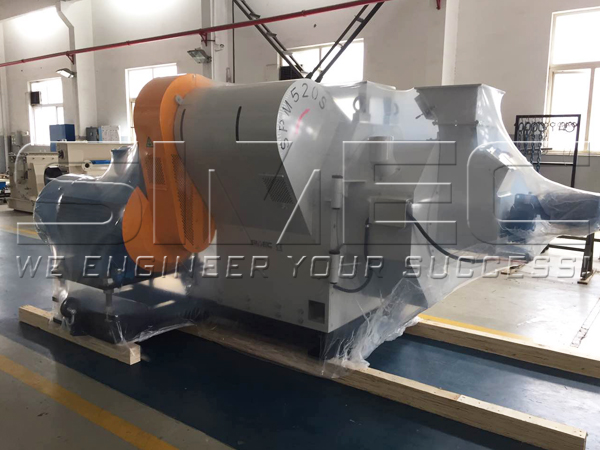 SPM520S Pellet Mill