Advantages of Palm EFB Chopping Machine
Position:
Project Sales Director
Feb 01, 2018
As one of the main residue of crude palm oil mill, Palm EFB (empty fruit bunch) can be recycled in a variety of ways. One of the most common ways is to use palm EFB as the fuel for the steam boilers of the palm oil mills or the boilers of biomass power plant, which supports the mills.
Before feeding into the furnace, palm EFB raw material should be pretreated. The most important treatment is size reduction. The raw palm EFB is a mass of tough long fiber. It is difficult to cut the fiber to shorter length (3-5 cm) that suitable for the fuel feeding and combustion in the boilers. The disc chipper, hammer mills, and other normal size reduction machinery can not process raw palm EFB into short fiber.
One of our customers in Thailand tried to use local fabricated disc chipper to cut the raw palm EFB, but failed.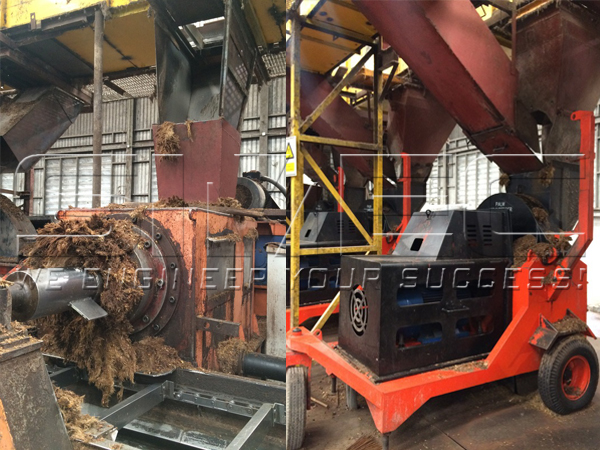 Former Palm EFB Presser and Chopping Machine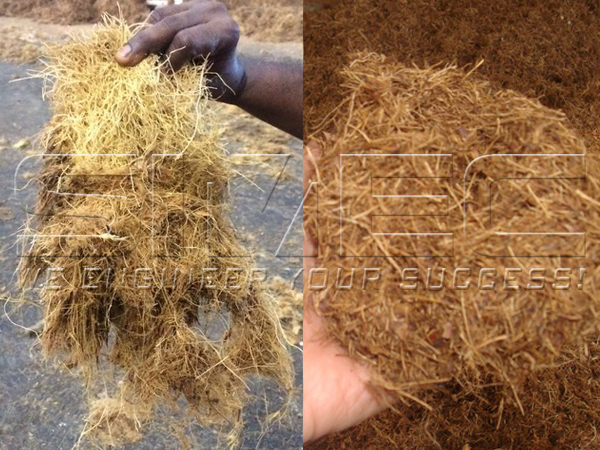 Compare Chopped Palm EFB by Disc Chipper and SIMEC Chopping Machine
The disc chipper is very easy to be blocked when processing the raw palm EFB. And the output size of the fiber is long and not average. Finally this customer decided to order specialized palm EFB chopping machine from SIMEC. Now the machines are ready for delivery.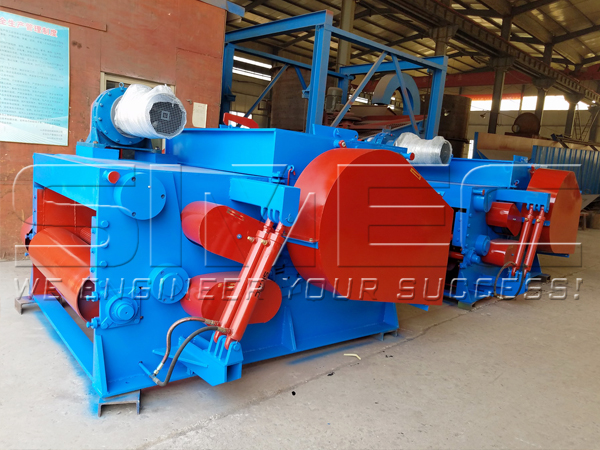 Two Sets of SIMEC Palm EFB Chopping Machine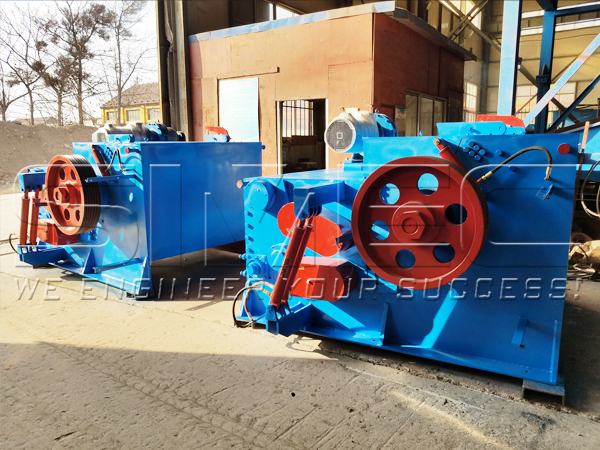 Palm EFB Chopping Machines to be Delivered
SIMEC has various models of palm EFB chopping machines with different capacities. This time we are going to deliver 2 sets of BX-G318D2 palm EFB chopping machine which has 15-20 tons/hour capacity to one of our customers in Thailand. After chopping, palm EFB short fiber would be used as fuel for their own biomass power plants which supply electricity power to palm oil mills around. Before delivery, we have tested the palm EFB chopping machine in our factory. The output size of chopped palm EFB fiber suited for our client's requirement.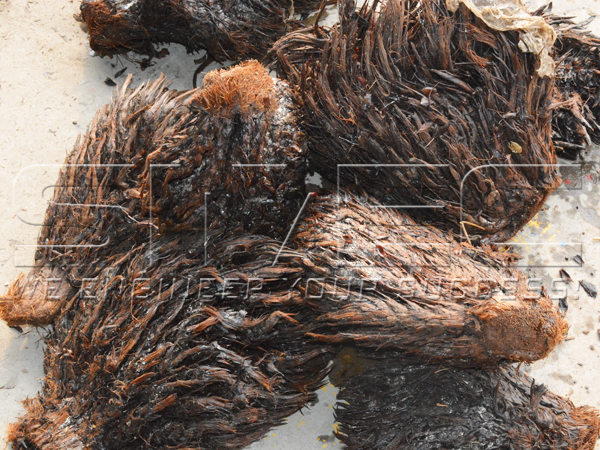 Fresh Palm EFB Raw Material
Palm EFB Fiber After Chopping
Here is the test running video of Palm EFB chopping machine:
SIMEC BX series palm EFB chopping machine is specialized in chopping the raw palm EFB into 3-5 cm short fiber, which is suitable for fuel feeding and combustion system of biomass boilers. The chopping machine is easy to operate and maintain.
1. Speed Adjustable Material Feeding System
There are two feeding teeth rollers installed on palm EFB chopping machine. Both of the rollers are driven by the frequency conversion motors. By adjusting the feeding speed, the operator is able to control the output size of palm EFB short fiber.
2. Automatic Feeding Control System
When palm EFB raw material is blocked, the material feeding system can stop and reverse automatically. Meanwhile, there is sound and light alarm on the control cabinet to remind the operator to handle the blocked raw material. After that, the material feeding system will work normally automatically. There's also standby manual option.
3. Hydraulic Maintenance Cover Opening System
When the operators try to maintain or check the knife roller, the checking cover of the roller need to be lifted. While it is too difficult to open the cover manually. SIMEC palm EFB chopping machine has adopted independent hydraulic lifting system to lift the checking cover simply and safely. By operating the handles of the hydraulic cylinder, the operator can lift and lay down the cover easily.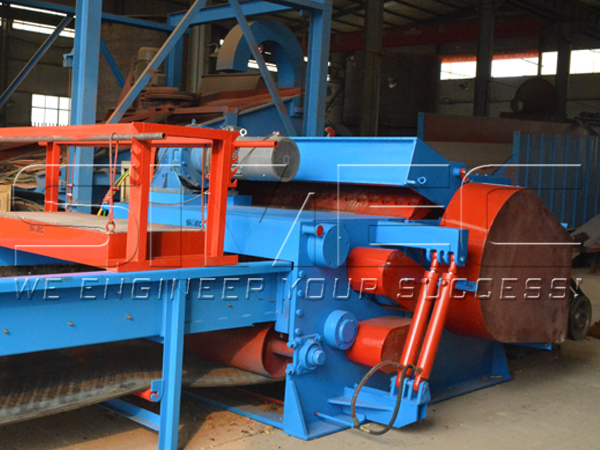 Hydraulic Cover Lifting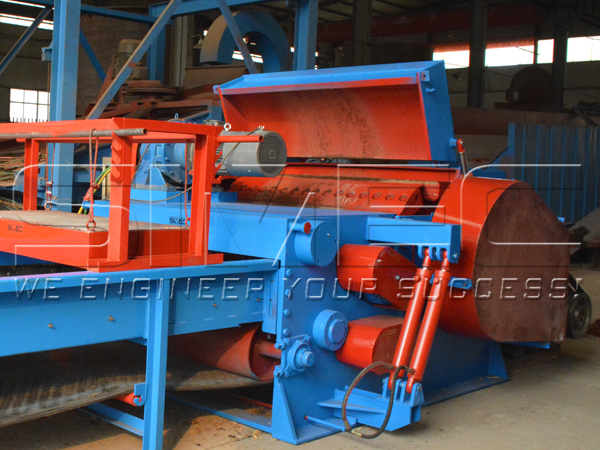 Hydraulic Lifted Cover
4. Capacity Monitoring System
This is optional design and product from SIMEC. This system will monitor how many tons of short fibers being discharged by palm EFB chopping machine. The data can be displayed, transferred and recorded as per hour, per shift, per day, per month or yearly. This could be set freely. Capacity monitoring system is continuously online and automatic. It collects precise data while the machine is running.
We design capacity monitoring system to help our clients to get complete running data of palm EFB chopping machine.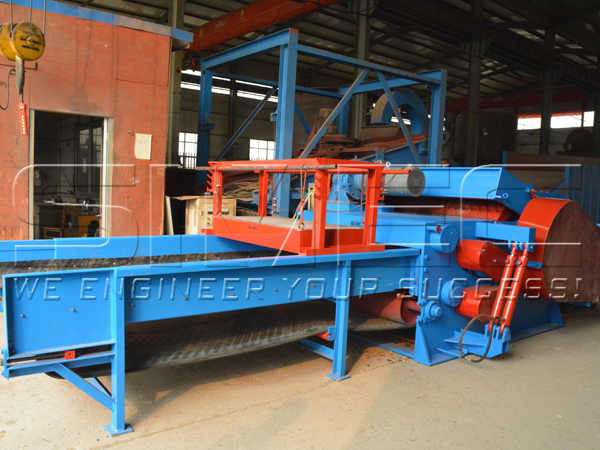 SIMEC Palm EFB Chopping Machine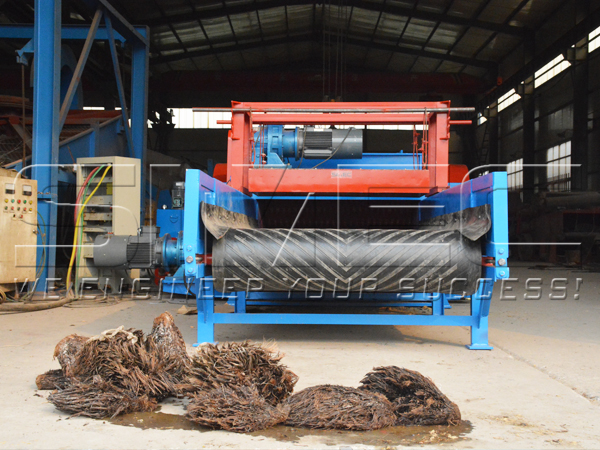 Palm EFB Chopping Machine Test Run


SIMEC is specialized in processing palm EFB raw material with many years of experience. We always provide our clients with the most suitable solutions and professional machinery. If you are interested in making palm EFB short fiber, please do not hesitate to inquire us through our email info@simecpellet.com.